I'm going to do this run whilst my Triumph is all shiny from the Day of Triumph and I have used a day in my logbook! All Triumphs are welcome.
THE SPRITE CLUB OF SOUTH AUSTRALIA CLASSIC SPORTS CAR CRUISE.
The Sprite Club of South Australia will be cruising again for the first time this season on the evening of Oct 20th  . As usual this is a low key short sharp and hopefully shiny evening to display sports cars. Gathering in the Target shopping centre car park on the corner of Tapleys hill Rd and Valetta Rd Kidman Park at 6:00 pm for a 6:30 departure. As usual we would like to be joined by any interested  sports car, clubman, etc drivers. We are not too fussy about what constitutes a classic sports car. The run will be of approximately 1 hour duration. Sun is scheduled to dip into the gulf of St Vincent at 7:33 on this day. The route will hopefully keep the glare behind us.
Depart the shopping centre car park in a southerly direction.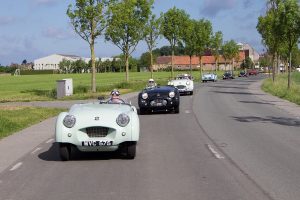 Follow Tapleys hill Rd to Sir Donald Bradman Rd and turn left.
Follow Sir Donald Bradman Rd to West Trc.  and turn left.
Drive along West Trc. Follow city ring route Park Trc. Hackney Rd. Dequetterville Trc.
Hard left turn at the Victoria round about onto Fullarton Rd.
Turn right onto the Parade. (We tend to attract a bit of attention here.)
Follow the Parade up to Glynburn Rd. and turn left.
Follow Glyburn Rd to K mart on your left hand side.
There will be a short presentation at K mart.
Route maps will be available at the departure point.
If the bureau predicts above 36 deg or more than a 20% chance of rain the Cruise will be postponed.
As would be expected everyone joining us take part entirely at their own risk and are responsible for the roadworthiness of their vehicle.
Further info on the evening contact Pat Miller 0421 289 706 email nanmiller@adam.com.au.